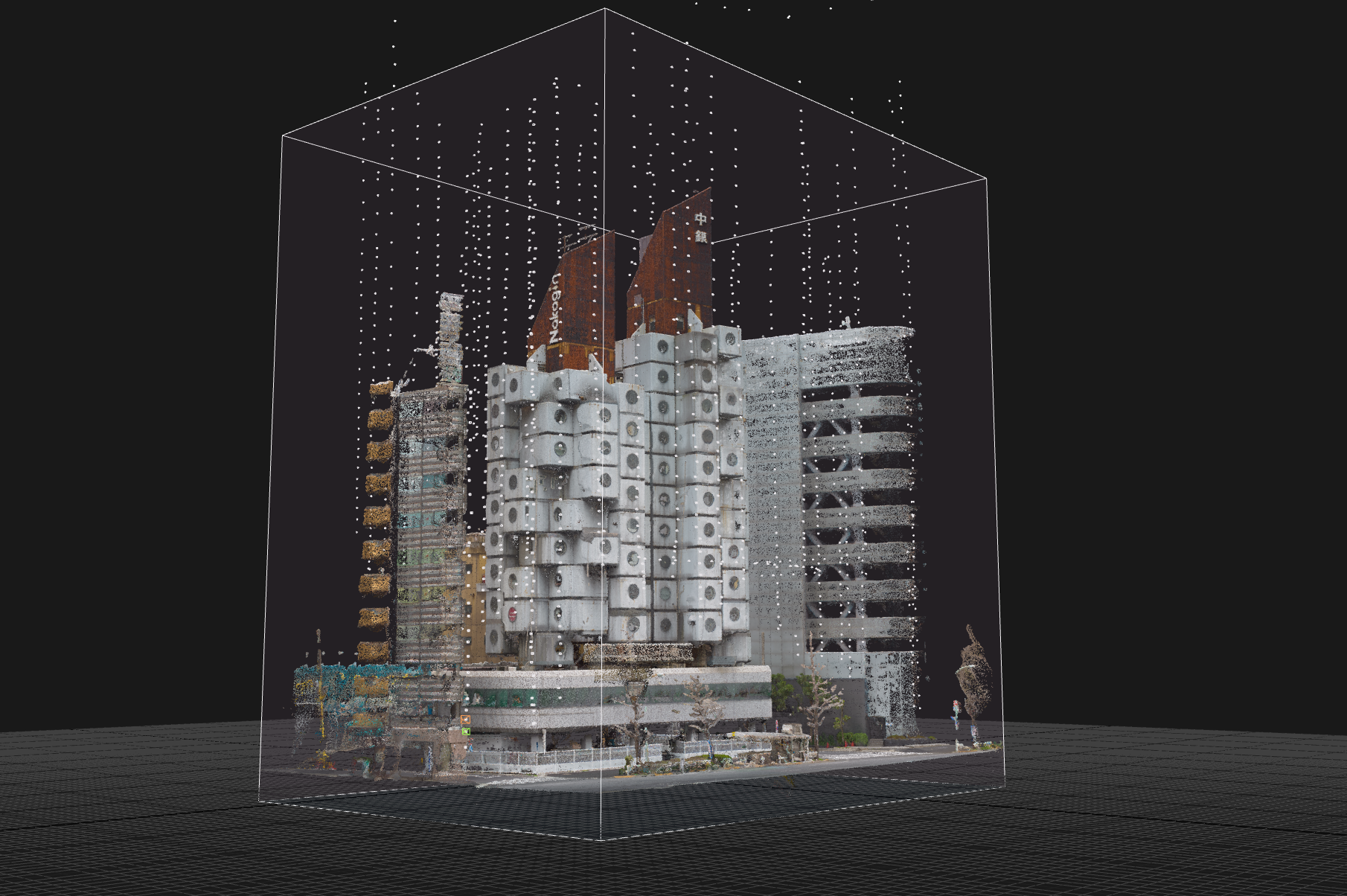 PROJECTS
3D Digital Archive – Nakagin Capsule Tower
We are using 3D data to save the famous "Nakagin Capsule Tower," which is being demolished in 2022, as a culturally-valuable memory. We aimed to accurately record its complex shapes with 3D measurement technology and pass on the value of the architecture designed by Kisho Kurokawa to future generations.
[News] Crowdfunding for digital preservation is underway until August 9!
https://motion-gallery.net/projects/3dda-nakagin
Three-dimensional measurement of building interior and exterior
In order to record the Nakagin Capsule Tower Building, laser scanning data, which can measure distances accurately to the millimeter, is combined with more than 20,000 photographs taken by SLR cameras and drones to scan the entire building based on actual measurements, thus converting the entire real space information into 3D The entire building is scanned based on actual measurements to convert the entire real-space information into 3D data. In addition to three-dimensional records of complex shapes and structures that cannot be recorded by flat photographs and drawings alone, the trajectory of modifications made by residents as they live with their ingenuity and the appearance of the building as it has changed over time are recorded as they are, thereby accurately grasping the architectural shape and leaving it as a digital archive for posterity.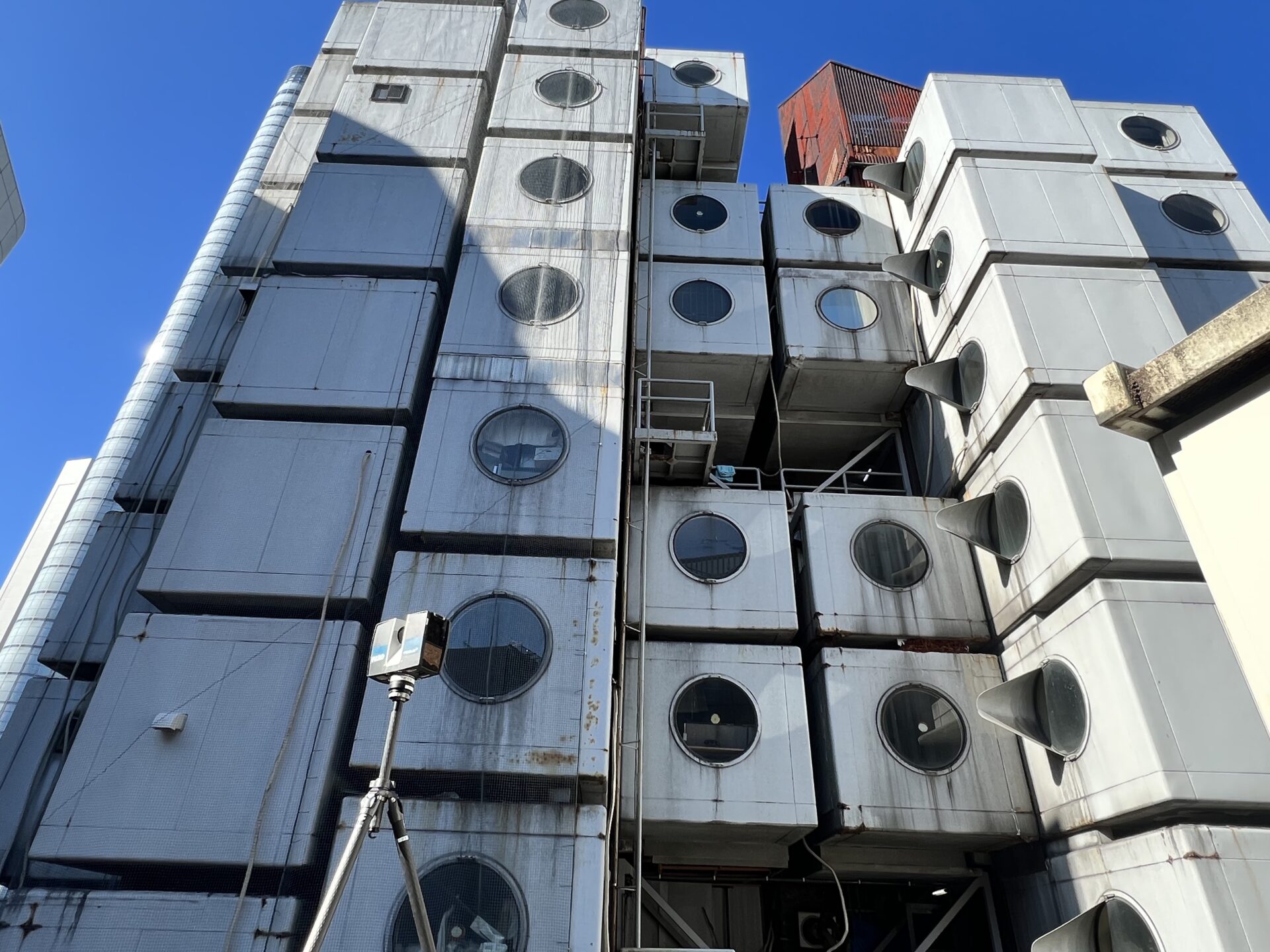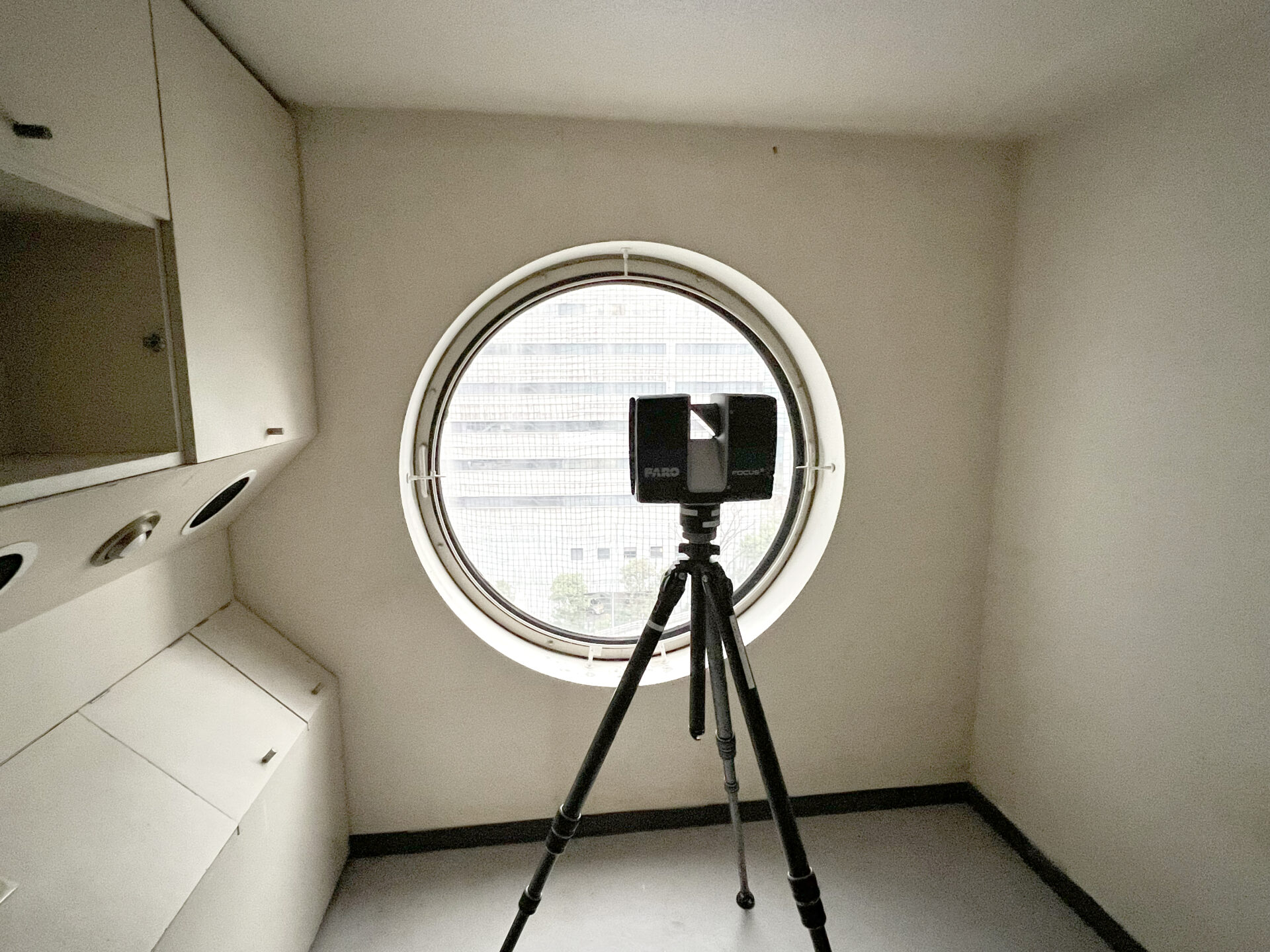 Nakagin Capsule Tower Building AR
AR(Augmented Reality) is available for viewing and enjoying architecture at your fingertips on devices such as smartphones, based on measured 3D data. Buildings can be viewed from various angles on the browser, up, down, left, and right, and can be summoned anywhere you like to view them, making it possible to enjoy them at your fingertips anytime, anywhere.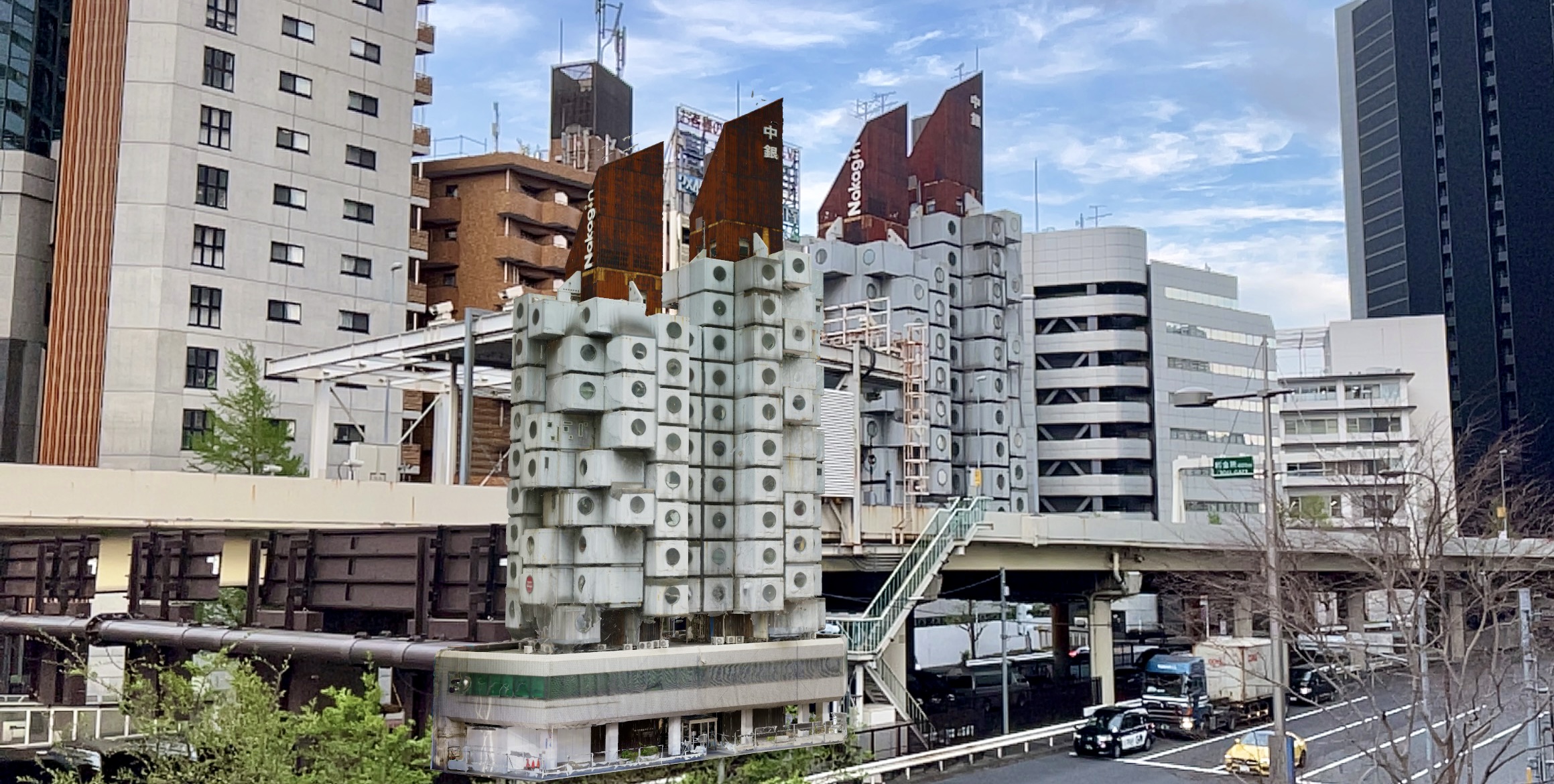 Expanding use of 3D data
The measured 3D data can be reproduced and utilized in a variety of media formats, such as AR, VR, and model making using 3D printers, as well as for use as 3D architectural educational materials to promote deeper understanding of space. If the crowdfunding support reaches the target amount, the 3D point cloud data will be made available free of charge on the website as open source data for the benefit of many people, creating opportunities for academic research and new creative activities.


[News] Crowdfunding is also underway until August 9. Returns will include 3D data and NFT.
https://motion-gallery.net/projects/3dda-nakagin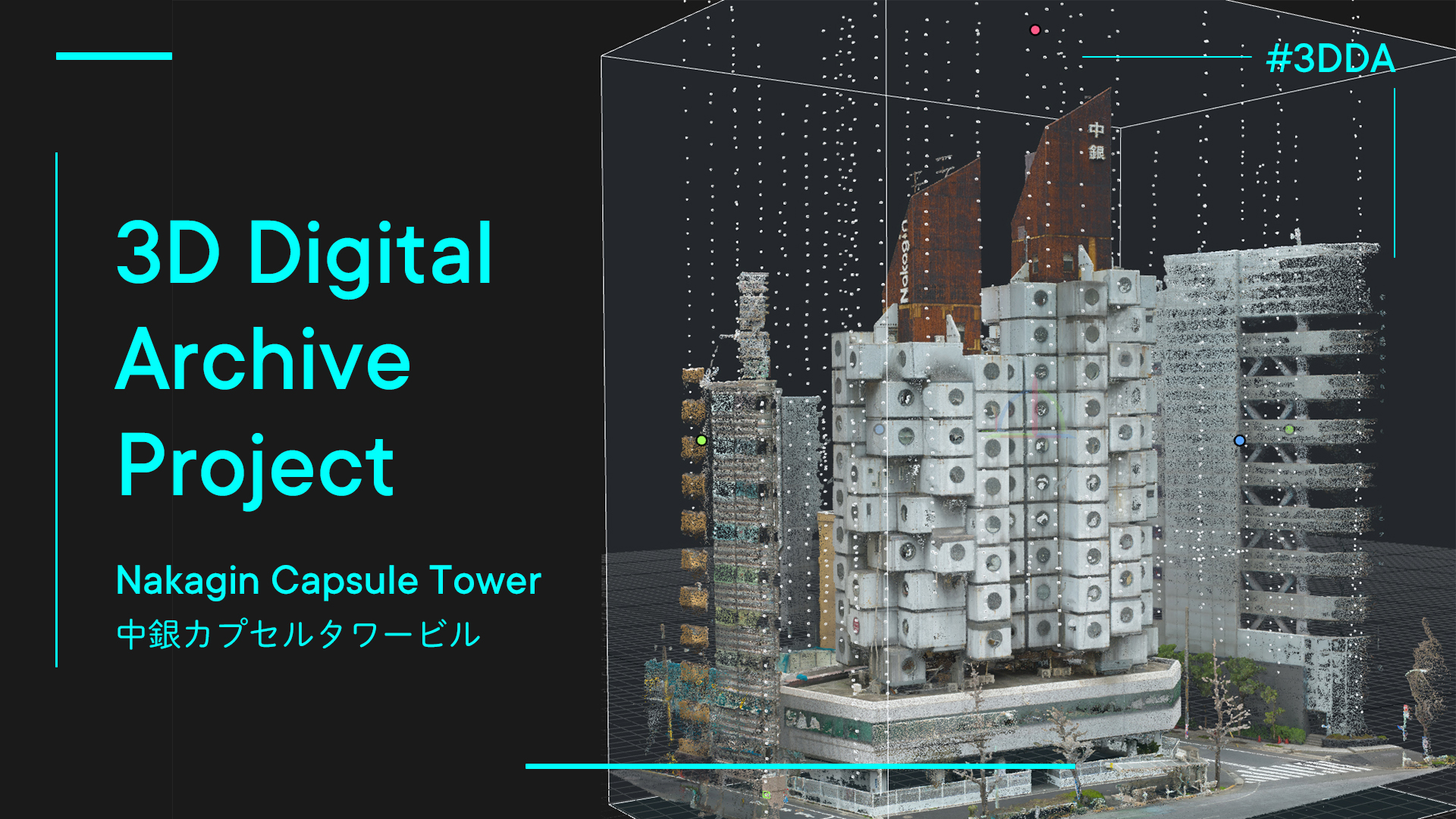 ---
Project Member

Organizer:gluon
企画・監修:
豊田 啓介(東京大学生産技術研究所特任教授 / gluon / noiz)
金田 充弘(東京藝術大学美術学部建築科教授 / gluon / Arup) 
企画・ディレクション:
瀬賀 未久(gluon)
3次元レーザースキャン:
船越 亮(クモノスコーポレーション)
西鼻 恵之(クモノスコーポレーション)
中井 麻友(クモノスコーポレーション)
堀越 脩仁(クモノスコーポレーション)
フォトグラメトリー:
藤原 龍(ホロラボ)
長坂 匡幸(ホロラボ / フリーランス)
松川 元希(ホロラボ)
ドローン測量:
大隣 昭作(福岡大学工学部社会デザイン工学科)
3次元計測:
秋田 亮平(gluon / 東京藝術大学美術学部建築科非常勤講師)
機材協力:
株式会社構造計画研究所
3Dスキャンデータ一部提供:中銀カプセルタワービルA606プロジェクト(藤田康仁[東京工業大学環境・社会理工学院、日本建築学会関東支部建築歴史・意匠専門研究委員会有志])
協力:中銀カプセルタワービルA606プロジェクト